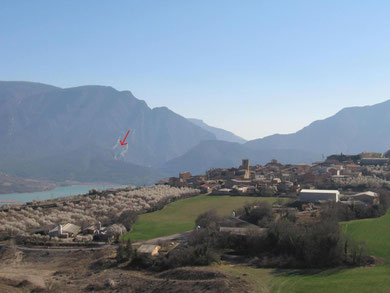 After a looong winter brake from rock climbing and the altitude training in Chamonix I hit the road to Siurana/Spain and met Edgar alias 'ten foot Tom'. Three days later we found ourselves below the overhanging tufas (sinter) of Terradets, not knowing what to do with these limesone obstacles?! Mayan and Hazel mentioned sonething about kneebars and stuff but I failed....started to press juice out of the tufas and managed to climb all grades 7a+, 7b, 7b+,7c,7c+,8a and 8a+ here, even a 7c and a 7c+ onsight (Energia Positiva), woohoo, WOW! Must be the higher haemoglobin concentration....
Jack (the north face face) Geldard flashed 8a just because I was pushing up the back of his harness, mhm!
Edgar stared to boulder every route on the cliff (to get in shape for bouldering) and we trained Elbsandstein-style tower jumps!
Terradets is a beautiful place to be, great hiking area  (castel del Mur, Roca Regina) and we met a lot of lovely, superstrong and motivated people from England, Chamonix, NZ and the USA! Thank you crew, smash on!
Finally, the rain shot Chrissis project as well as my project down, so it's time to go back to Siurana!!! 
Foto selction below!