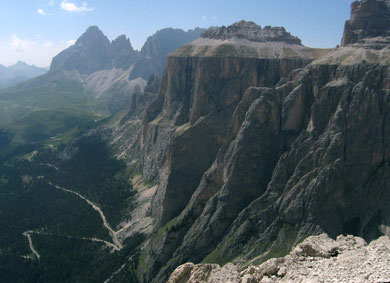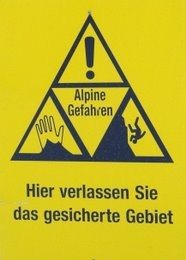 4 giorni una estate, 7a, Sass Pordoi, Sella
600m bolted route on rough rock up the NW-face of Sass Pordoi (2950m). Some holds were wet, especially pitch 5 and 7 felt like canyoning...but the rock was sticky enough to squeeze our way up! The climbing is mainly steep and tiring (40-50m pitches); the bolts are far and just some mid-sized Cams and kevlar threads turned out to be useful. Welcome to the Dolomites!!
We shared some belays with two cool Tyrolers, Peter and Martin and had a lot of fun! The crux pitches are pitch 7 (6c+, 40m, overhanging, biiig holds and fairly runout, the '+' stands for the extra water ;o) and pitch 11 (7a, 40m, crimps and sideholds).
Partner:
Harald Pfüller
Gear:
 - 15 DMM Phantom Quickdraws
 - DMM Dragon Cams No. 0-3
 - kevlar and nylon threads
Time:
Walk-in: 40 min-climbing 8h- Bier, Skiwasser & Strudel at Rifugio Forcella Pordoi 30 min- descent 1,5h
Topo:
see planetmountain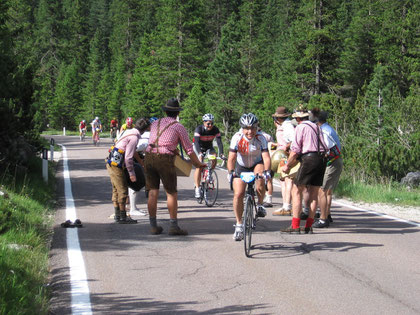 Amoklauf, Cansla, Traumpfeiler, 7b, 150m
200m alpine sport climbing on sticky, light grey rock. Excellent rock quality, good protection (10mm bolts), Ceüse-like climbing on pockets and flared cavitie! Sharp and unchalked rock , the rout meanders up 7 quite hard and technical pitches. Slab climbing skilles are required as well as holding onto small crimps and slopers. 
Well-our day started with a cheerleading session for the 26. Dolomiten-Mathon, a classic for 9000 cyclistst from Garder Tal to Corvara.The Sellapass was closed so we ejoyed watching active sports and passive sports and....
Partner:
Harald Pfüller
Gear:
15 DMM Phantome Quickdraws
Time:
Walk-in 5 min- climbing+abseiling 6h
Topo:
see planetmountain