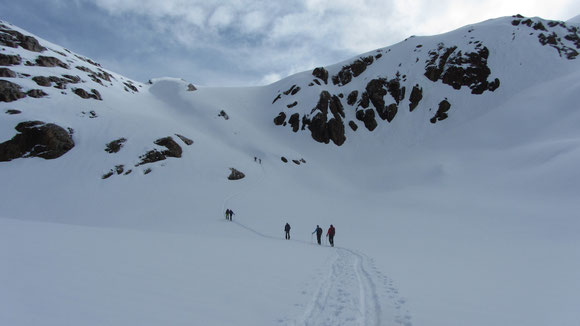 Small followup on our March and May trips to South Tyrol. Thanks to the abundance of powder snow and no cold conditions for ice climbing we used this spring to refine our ski skills (which are in small need of improvement =)
After a couple of Ski Tours in the Dolomites we were stunned about the quantity of snow in this area! We skied three tours:
-Forcella del Christallo 2808m (long way...)
-Schafberg...
-Zuckerhütl N-Face (3507m) (we used the cable car to the Eisjoch, had the best summit view EVER and a gigantic 2000m ski decent from the highest Mountain of the Subaier Alpen down to the parking!)
End of April we met in Marteller Valley in the southern Ortler Mountain Group and spent three days at Marteller Hut 2610m.We skied there from the parking 'Enzianhut' 2051m.
With a big active team of SektionAlpen.net (Chris, Nancy, Rolf, Uwe, Vera, Reiner, Tobi, Jens, Werner, Kerstin) we spent three nights with fantastic food and hospitality! Thanks to hut tenant and team we even had excellent vegetarian and gluten free food!!!  
Day 1: 1st sunburn: Parking > Marteller Hut > Köllkuppe (Cima Marmotta) 3330m
Day 2: snow and glacier hike to > Drei Kanonen 3315m > Casatihütte > complete white-out > thanks to GPS back to Marteller hut
Day 3: POWDER ALARM > 3. Veneziarspitze 3356m
Day 4: sun, sun, sun: Zufallspitze 3759m & Chvedale 3769m
Day 5: Schnalstal, Parking Kurzras > Schwemser Spitze 3459m (insiders' tip!)
Day 6: Kaunertal Parking Weißseegletscherrestaurant > Weißseespitze North Face 3518 m
Thanks team, you made this winter special!