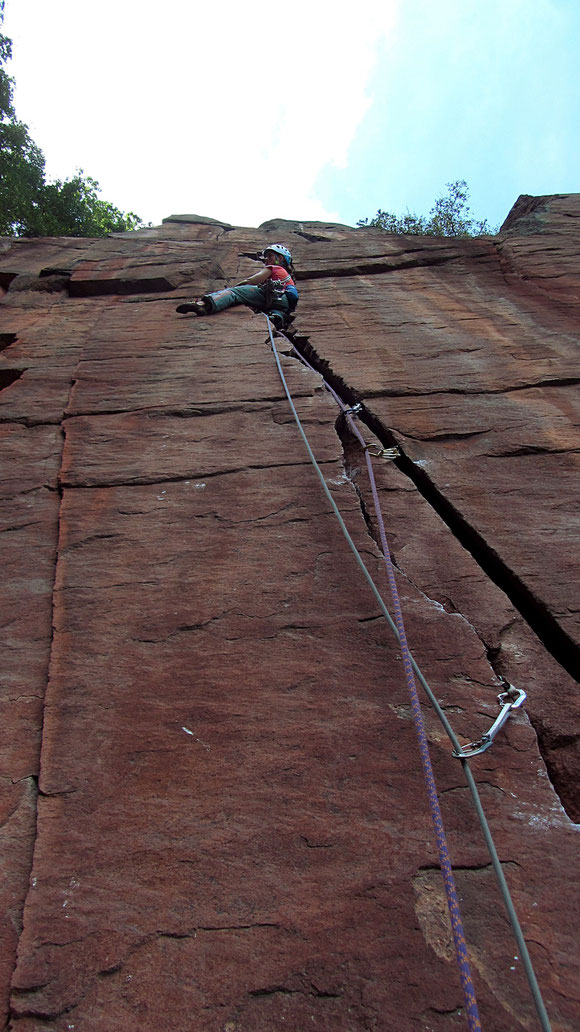 Crack climbing at it's best! This beautiful crack climb at the porphyry rock above Bolzano requires all crack and trad climbing skills. And it is brutal! We went there after the legendary SportScheck Testival at Molveno to check out a new route freed last year by the 'Riegler Brothers'. Pure trad, just bolted anchors!
To get into the route you abseil down, the route gets the shade after 1pm (wich is very useful unless you wish to get fried!)
Cojote was a good fight for us, all piches are demanding and pumpy, the crux  (2nd pitch) is a hard fingerlock section where we campused due to inexistent footholds ;)
Well, we struggled but onsighted the route (as far as you can call it an onsight wen you've rappelled a route ;)
Go try it, it's fantastic!
You desperately want TAPE GLOVES!!!
Rack:
Double rack from DMM Baby Dragons No 00 up to blue DMM Dragons No 5 and one No 6 (grey). Medium sized DMM Wallnuts.
Suggested Diff.: 6c+, 7b, 6c+, 6c
Topo&Approach: http://www.rieglerbrothers.com/download/COJOTE.pdf